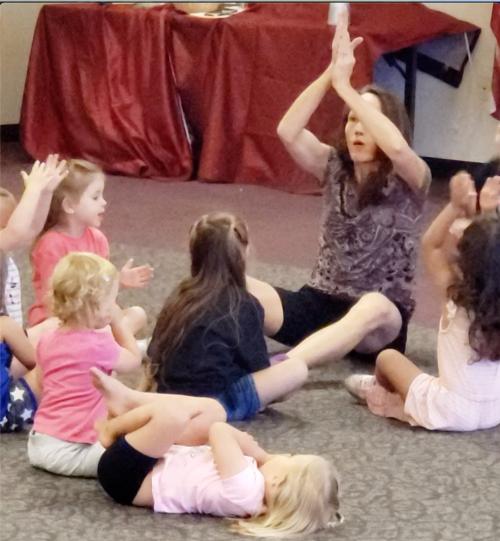 Families make masked music together! :)

We meet via Zoom the same days & times as the in-person classes. We observe COVID-19 city safety protocols. Please click Classes --> Class Schedule dropdown menu above for age ranges and prices -- or check the Grapevine Rec Spring 2021 Activities page.

Join us! We gather musically, joyfully, and SAFELY -- in person and online.***

Welcome to group music classes!
We teach singing, movement, and instruments to newborns and children up to 10 years old. Adults too! We teach beginning piano, guitar, and flute. Time-tested classical and folk songs bring out a child's natural musical interest and gifts.

We are unique because
our MusikGarten curriculum gets music into your body
weekly lessons use patterns, explorations, and songs about nature and culture, to meet the developmental needs of specific age groups: babies, toddlers, pre-K, and lower- and upper-elementary students
children and their grownups bond as we make music together
Ms Joley has a stimulating teaching style
we follow the child where the music takes their imagination!
Click
Registration
above to enroll your family for Winter/Spring 2021 sessions. Questions? Call/text

512-921-1631,

or email

MusicWithMsJoley@gmail.com.



POST A REVIEW

Thank you for visiting!
Come for the fun, stay for the education! (Or is that backward?)